Hello to all and any,
This topic can you explain how you have, or you have and of course how insert pictures in your presentation. 
1. Or stand?
Welcome to our forum, to access the rest of the forum is simple, you need 


You present the new arrivals section (with or photo (s)) (Click here to go to section)


Minimum have 10 messages from you on your presentation,


Be active a minimum on the forum.


Here is the interface that you see coming, you have access only to that part without having access to the rest of the forum is not accessible.  
Introducing new members
2. How come?
How come when you click on the appropriate section (explained above), it is necessary that you can present yourself. This part deals with the presentation part. 
Step 1: open the page of creation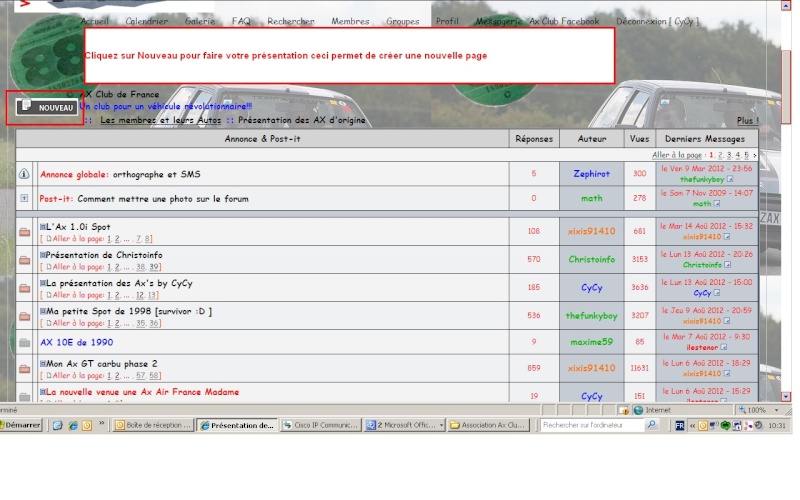 2nd Step: The interface that allows you to make your presentation
We will provide details at this stage what to do. 
1. You choose a title such as "My Ax 10E of 1988"
2. You choose the color of your title (avoid flashy colors too ca prevents legibility)
3. You detail your presentation of yourself (name, age, or of you) and your vehicle (model, year, mileage, or you buy your vehicle, and a little history on your AX)
4. You send what will save your presentation, Forum members will be able to consult
3rd Step: How to insert a favorite picture of your vehicle
This step deals with how to integrate a picture in your presentation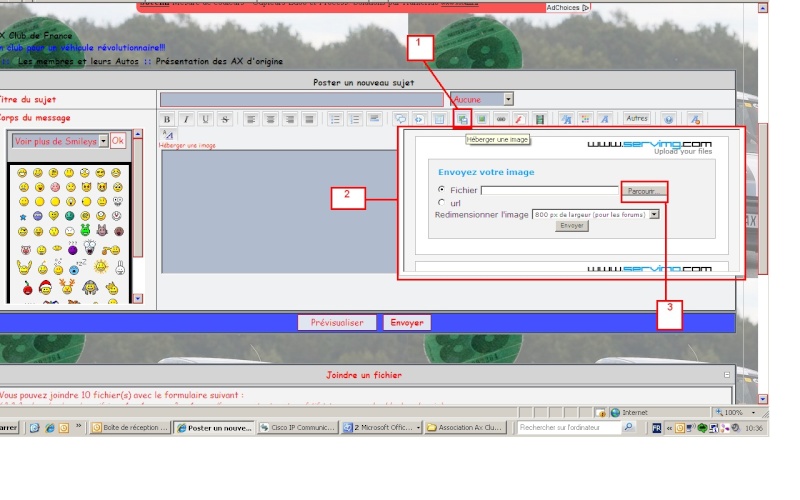 1. Click the "Host an image"
2. A window will appear that can accommodate the photo (Tip: Put several pictures that helps you see your vehicle from the outside and inside of it)
3. Click "Browse" dialog window will open so you can get an image on your PC or on another media (USB stick or external hard drive)   
Annuler les modifications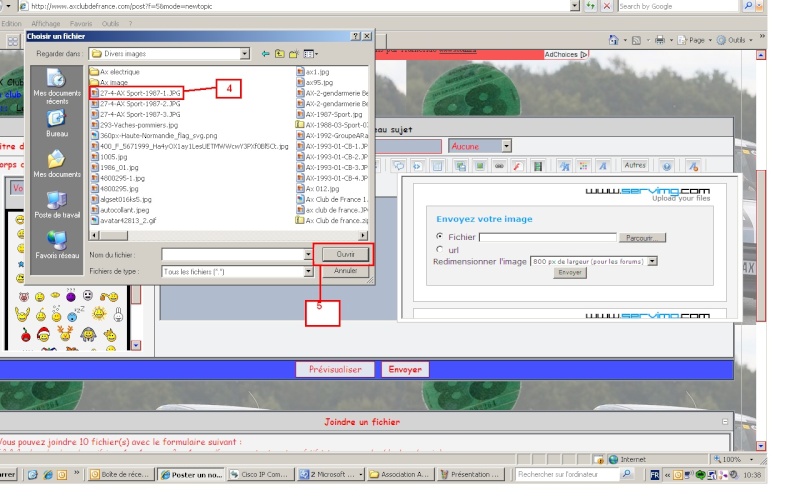 4. As explain in Section 3 above is a dialog window appears, select the photo of your vehicle in the folder of your PC or another media (USB drive or External Hard Drive)
5. Click "Open"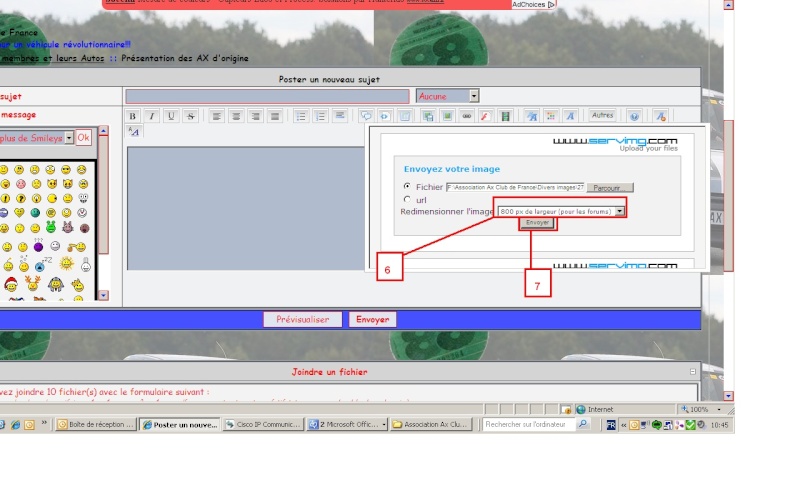 6. Once the photo selected, choose the format (Tip: leave on forum format "800 px wide")
7. Click "Send" the picture will download the server  
8. Once downloaded, select the link for the middle which you will direct your picture when you save your presentation
9. Click "Copy" it will copy the link so you can integrate it into your presentation or right click on the picture link 
Tip: Once you download and put your photo on your presentation and want to put another click "send image" link below the previously proposed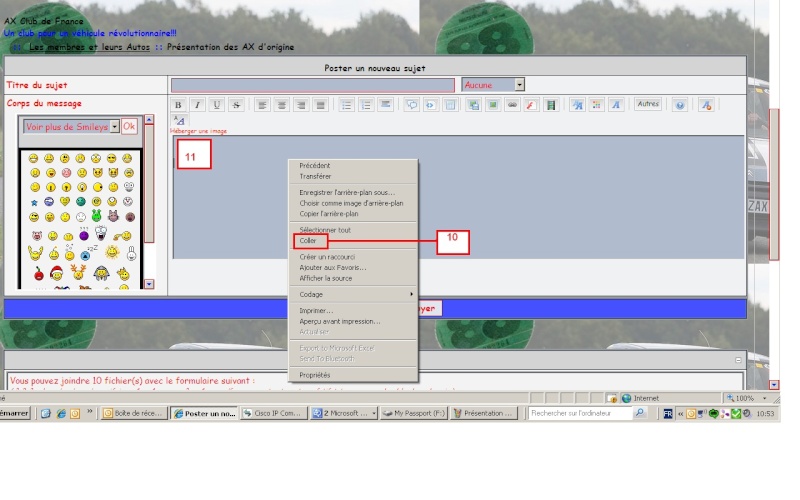 10. Make a right click and select "paste"
11. The link will appear in the dialog or is your presentation 
Step 4: Formatting your presentation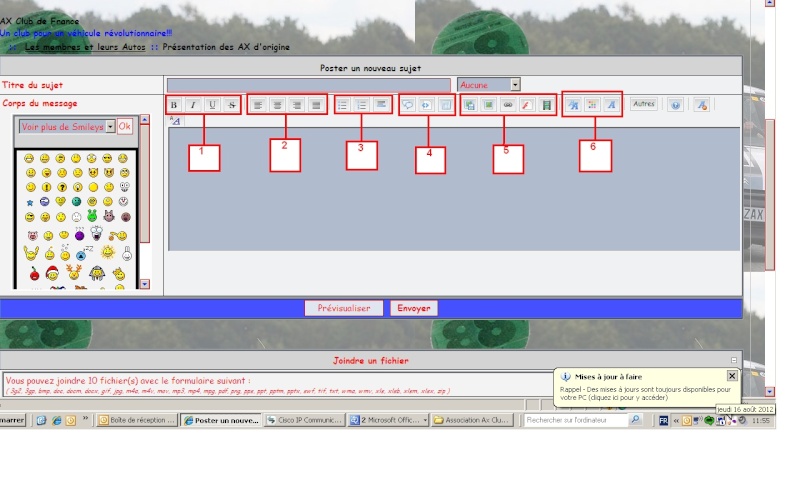 1. The palette works like word it allows you to put phrases or words in bold, underline, italic, or strikethrough
2. This palette allows you to adjust your text as always is in any word left, center, far right or aligned
3. This adds word such as on a bulleted list or figures and inserting rows
4. Tag to include the commantaire of another person, to add tags or insert a table
5. Want to put the media in your presentation the following tags for inserting pictures by hosting through the server, insert a link to an image, add a link, a flash image and of course a video via youtube, dailymotion 
6. You want to put some form in your text the following tags are used to adjust the height of your font, color of your text and select the font of your text
3. General Summary
Here is a summary of the general steps for you are on the forum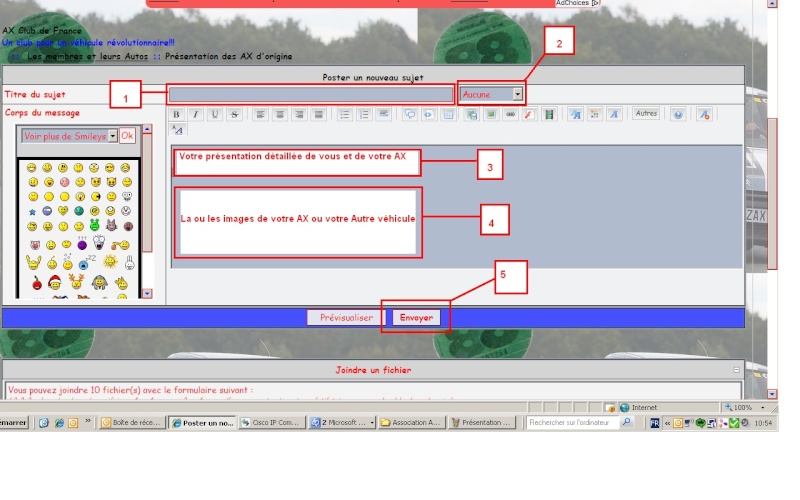 1. Your title of your presentation example: "My AX 11 TRE 1987"
2. The color of your title (Not too flashy color after it is unreadable)
3. Your text (you and your car)
4. Your photo of your car (still 800px wide)
5. And you send your submission is made visible to all members (except unregistered persons)
ATTENTION: All SMS language or presentation that is not in a (eg problem of gimbal) in sections presentations will be modified or deleted (see FAQ if you are registered) 
I hope this short presentation has given you a better understanding of how the board works for you present. You hold the key for you to play. If you have any questions do not hesitate to contact us by email at
axclubdefrance@gmail.com